Many readers do remember how last week I posted an article concerning the reports that '4 Canadian Doctors' had died after taking the deadly KILL SHOTS and/or booster shots… That article clearly showed that the number was NOT '4' but at that time of reporting as many as 6 right across the country…. I also warned at that time that there would be MORE deaths of Canadian doctors, and that when those happened, I would have a follow up article here at this blog to warn readers…
Well… This horrific story about Canadian doctors dying after taking these lethal injections seems to get worse by the day….And I have to thank my fellow Canadian real truth seeker, Penny, who lives in the insanity of southern Ontario some 1400 miles east of here, for keeping up on this ever changing story…
In fact, I do want to present the link to Penny's most recent report about this travesty, from her website at http://www.pennyforyourthoughts2.ca … This is a must read by my own readers, for apparently the number of Canadian doctors who have now died AFTER taking these lethal injections is now as much as 14 AND CLIMBING… Here is the link to Penny's report here:
OK, To me, this is truly diabolical and a case of mass murder… BUT sadly where the fuck is the Canadian media that should be doing their JOBS and actually report on this travesty to the Canadian public? Apparently, and once again, they cannot be trusted at all for they have absolutely refused to even file ONE report in any of the lying whore media outlets here in Canada about this horrific murdering of Canadian doctors…
But at least some of the alternative media in both Canada, and down in the US are keeping tabs on this crime against humanity… And I do want to present the link to one such report that comes from the "Reality Shed" website at http://www.realityshed.com that takes a look at what was possible the ONLY 'report' that came out of any Canadian 'news outlet' where they dismissed the original reports of 5 dead Canadian doctors… AND this link also discusses the 'reported deaths' that have been claimed by ALL 14 Canadian doctors as well… Here is that link:
NTS Notes: Yes, the criminals in charge have constantly been 'moving the goal posts' so to speak to cover up for their crimes… And of course their 'definition' of 'vaccines' has changed so often that even I have to look at sites such as 'Wikepedia' from time to time just to see what kind of garbage 'definition' they are trying next!
But back to the issue at hand.. We do have now as many as 14, YES 14!. Canadian doctors that have now died due to taking these lethal injections and/or boosters into their bodies… To me, this is beyond reproach and should be noted by EVERYONE in not only Canada but across the United States as well…
I continue to be puzzled though by this ever increasing number of doctor deaths in Canada due to taking these KILL SHOTS… You would figure that 'doctors' would be some of the most intelligent individuals out there, and after years of training and understanding 'diseases' would all know exactly what those lethal injections are all about, right? Thus to me this rising number of dead doctors shows that even our 'doctors' are not that bright and have swallowed the 'KOOL-AID' as much as the other 5 BILLION stupid people around the planet!
And of course the 'meme' picture in that Reality Shed article is just too good to miss, and I will probably incorporate it more and more in future articles as well.. Here is that meme: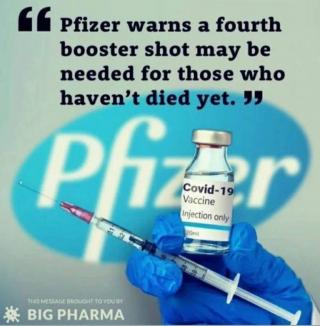 Yes, the pricks behind PFIZER, Moderna, and the other pharmaceutical companies promoting these poisons, are indeed pushing for their '4th booster', with word that they will not stop at 4 but will demand that the sheep out there take their 5th, 6th, 7th, etc… And with each subsequent shot of this garbage, their immune systems, for those who survive, is irreparably destroyed leading to certain death….
So, again… How many more doctors have to die before the sheep out there take notice? Time will tell, but the lying whore media can no longer cover for this increasing death toll, definitely..
More to come
NTS